Welcome to the "BaseCamp Grill!" Home of the best burgers and specialty sandwiches in Sunriver!
Due to the current labor crisis we will be serving a limited menu for the summer of 2021.

We will open at 8:00 am everyday.

Menu items and closing times may vary due to circumstances beyond our control.

We thank you for your patronage and patience thru these tough times.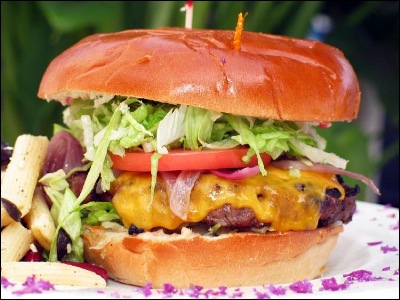 Yes folks, it really does look like the picture! From the Bachelor bacon burger using thick, lean bacon, to the Volcano with our own chipotle aioli sauce, to the LaPineapple burger with a teriyaki glaze. Lets not forget the Swiss Alps burger! Sautéed mushrooms and onions topped with Swiss cheese. All sandwiches come with steak fries, but curly fries, onion-rings, and more are also available along with soups and salads. $8.50 and up.

If you are on your way to play, or done for the day, the BaseCamp Grill is the place to come and stay; Breakfast, Lunch and Dinner everyday!